Royal American Food Service operates five T.G.I. Friday's locations on the Gulf Coast. Under our care the franchise has gained loyal customers through community based marketing. The fun mix of freshly prepared menu items and the local bar atmosphere lends to our success. With the capability to cater groups up to 1,000 people, Royal American Food Service and T.G.I. Friday's have all the tools necessary to accomplish keeping large work staffs fed and energized.  
Locations:
Dothan, AL
Fort Walton, FL
Panama City, FL
Panama City Beach, FL
Pensacola, FL
Phone: 850.769.8981
Fax: 850.914.3238
To learn more about TGIFridays, click here to go to their full website.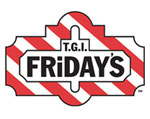 Follow us on Facebook