Royal American Management, Inc., (RAM) is a Licensed Real Estate Brokerage Corporation based in Panama City, Florida. The Company's exclusive charter is to provide the highest level of professional property management services to its clients, and it has done so since its inception in 1971. Over the years, the company has mastered the ability to balance the needs of residents and the goals of owners to ensure financially viable properties. As Property Managers, our objective is to add value to our owner's investments and our resident's home. Royal American Management manages a large diversified portfolio of 170+ properties and has extensive experience in all types of multifamily property management to include: Conventional, Rural Development, and HUD multifamily communities, single family home communities, senior affordable and congregate living communities, commercial real estate, and many multi-layered finance and subsidy programs to include: Section 8, Bond, HOME, SAIL, and Hope VI.
Trust is paramount to us. As a property owner, you need to have faith that your property is professionally managed to the highest level of integrity across the board, including accounting, education, marketing, maintenance, and risk management. Royal American Management is unique in that its services offer in-house fully staffed Support Departments located in our main Corporate Office. The Support Staff specializes in areas where they have experience, knowledge, training, credentials, and education in their field. The Support Staff members are considered experts in their field. By consolidating all of your services with RAM, we are able to further increase the savings we pass along to you.
RAM is committed to providing quality, unsurpassed support services to our clients and line staff. A list of the RAM Support Departments are as follows: HUD/RD/Fair Housing, Compliance, Housing Credit Residential Relations, Marketing, New Business Development, Information Technology, Human Resources Training, Risk Management, Accounting AP/GL/Payroll, Resident Accounting RealPage/Onesite, Maintenance, and Contracting.Our mission is to enhance people's lives by providing high quality affordable housing, to embrace and reinvest in the communities where we do business, and to explore new and innovative ways to add value to the properties in which we manage.
Royal American management was awarded the coveted AMO Designation in 2006, 2007, & 2009. AMO (Accredited Management Organization designation) is awarded by the Institute of Real Estate Management of the National Association of Realtors. This designation is awarded to those companies that have met stringent IREM AMO® accreditation standards in the areas of organization experience, management expertise, stability, operations, finance, and insurance and bonding. Additionally, the AMO®, designation requires adherence to a strict Code of Ethics.

1002 West 23rd St.,
Panama City, FL 32405
Phone: (850) 769-8981
Click over to their site here.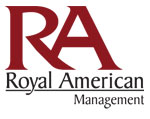 Follow us on Facebook